How the VA Treats Our Veterans
Submitted by Terry Gould on March 6, 2013 - 22:02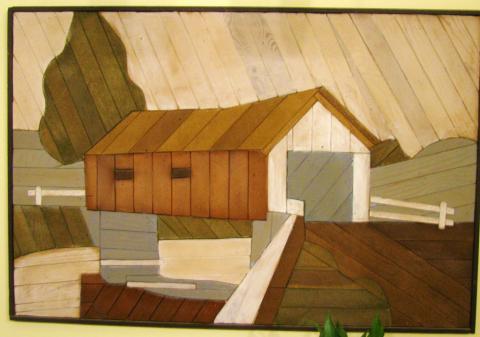 A Visit to a Veterans Medical Center—Contrary to What You Might Be Thinking
Let me introduce you to the most important man in my life: 87-year old Sgt. William J. Ekwall, World War II Veteran, U. S. Army Air Corps, turret gunner on a B 24 nicknamed "The Monster, 33 bombing missions over Germany; and my father-in-law.
He is a tool and die maker by trade.; ever so precise with measurements, cuts and grinds. He has a garage and a shed of tools that are the envy of any craftsman.  He built model railroads and transformed scrap wood into one-of-a-kind pieces of artwork that adorn the walls of our home today. The tools lay waiting on shelves and drawers  for the hands that once finessed them with deft precision; the hands that cared for them and gave them their purpose. But the tools have remained silent for more than a year now. 
It was in 2009 that "Bill" was diagnosed with Alzheimer's. This degenerative brain disease has taken its toll on him. It has methodically and progressively stolen from us the man we know and love.  The smile is no more, and the gleam in his blue eyes is lost somewhere in the entanglement of brain fibers that once burst with life and a contagious personality.
When Bill was diagnosed with Alzheimer's it was through a cooperative effort between the VA and Vanderbilt University. Bill's primary care physician, assigned to him five years ago, is in fact a Nurse Practitioner. She has the skills, knowledge, understanding and compassion far beyond any "public doctor" that cared for Bill prior to his qualifying for VA care. Her name is Carla Leuschan and her support team consists of two nurses; Lisa and Terry. The three of them are a trio of professionals who take their work seriously and provide the best care I've witnessed in any medical environment. They are dedicated to their professions and committed to every Veteran that walks through the front door of this VA facility.
Ms. Leushcan was the first to recognize the early signs of Alzheimer's as it began its treacherous course through Bill's brain. She ordered tests; blood work, x rays and CT scans, and she eventually brought the Vanderbilt expertise into the diagnosis.  They only confirmed through an MRI (a test not available at this VA center) what Ms. Leuschan had already feared.
The VA arrangement with Vanderbilt dictated that the remainder of his care associated with the disease would be left up to the VA and Ms. Leuschan. Her remarkable knowledge of pharmaceuticals, disease progression, symptoms and pure human intuition has given us the ability to recognize, understand and respond to each progression of the disease and the changes it has caused in Bill's behavior. Through Ms. Leuschan and her team, we have been able to anticipate the "change moments" in the course of Bill's life and respond to them in such a way that Bill will always know we are there for him, his comfort and our own well being.
On Monday, March 3, 2013, Bill suffered severe abdominal pain , coupled with vomiting, diarrhea, extreme weakness and hallucinations. It was time to get him to the VA.
From the moment we entered the hospital, as we had dozens of times before, we were greeted with smiles,--genuine smiles--and arms that wrapped him in familiar hugs, hands held out in recognition of a Veteran they had come to know,  admire and love. A Veteran they, too had shared in the loss of his personality. A person they all knew and remembered, but a person who could no longer recognize and remember them. I t didn't matter. They loved this man, this Veteran, my father-in-law.
The following is an email I sent to my brother that evening:
It's 8:40 on Monday night and we just got home from Bill and Delores'. I feel a need to tell someone how I feel tonight, and you are the one person I know I can count on. I usually suppress these things, but tonight feels different. Bill, it seems, has entered a new phase in his long life. Barb's mom called us three times within 45 minutes, the concern in her voice was more apparent with each call.
Bill was having episodes of severe hiccups and incoherent talking of things past. When we got to their house, Bill was fairly calm, but his thoughts were random---fleeting between the past, the present and the what-ifs. I sat there, watching this man, this Veteran, stumbling on words, on thoughts, at times staring at the space between his chair and the TV, then grappling to put on his night clothes--and I wondered if God really knows what He's doing. I was reassured of that when we were finally able to get Bill ready for bed--a bad case of the shits, a shower--more shits—clean up with a long shower, wipe with a towel, get ready for bed, and we laid him down to sleep. (hopefully uninterrupted for the sake of Delores). Lying there, quiet, even in his confused state of mind--I believe even he was unsure if he would wake in the morning--he grabbed my hand, squeezed it firmly, and thanked me for everything and anything I had ever done for him. Tears blurred my vision, but I stayed strong, and I squeezed his hand, told him I was proud of him, and told him that I loved him. And we said good night. To me, God gave me this man to give me the dad I really never knew.
I have been blessed to have this man in  my life. And I have been blessed to have the privilege of  taking him for the past five years from the front doors of the VA hospital to the check-in desk, to the blood lab, to Ms. Leuschan's clinic, to urology, x ray and CT scan, cardiology, psychology and the cafeteria. At every stop, it's a smile, a handshake, a hug and often times a kiss on the cheek. And it's not just Bill. It is Veteran after Veteran that streams through the daily process and he or she is given, freely and openly, the hearts of these dedicated professionals.
Along the way, I have come to realize and recognize the phenomenal people that call themselves the staff of the Alvin C. York VA Medical Center. I've met people who have spent fifteen, twenty and twenty-five years, doing the same job day in and day out. Yet, they never, ever have shown a compromise for their responsibilities or their commitment to the Veterans they serve.
Bill is quiet tonight, lying in the tranquility of an ICU ward and its guardians. I don't know what plans God has in the near future for Bill. But I do know He has placed him in the hands and hearts of some very special people.