Volunteers
Submitted by Joyce Faulkner on December 1, 2011 - 15:31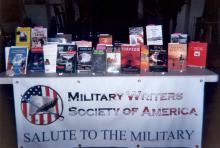 MWSA is a volunteer organization. Unlike simple professional writers' groups, our mission is broad and our aspirations are not singular but for each other -- and for our country and history. The things that we do -- our magazine, our conference, our classes, our reviews and recognition programs -- happen because of the talents, hard work, time, and good will of our members. To truly get the maximum value from your membership, we encourage you to volunteer. Help us grow MWSA and make it all that it can and will be. 
Roles. There are many ways that you can help. Here are a few:
Leadership - This group of volunteers figures out where we are going and how we will get there. 

Officers
Board Members
Lead Reviewer
Membership Secretary
Historian
Consultant

Committees

Social Networking
Author Event Scheduling
Marketing
Education/MWSA Writing Academy
Facebook Moderation
Fundraising

MWSA Awards Program

Reviewer
Assign nominated books to Judges
Judging

Dispatches - This group of volunteers provides members with opportunities to write, educate, inform, edit, illustrate, and publish our monthly magazine.

Senior Editors
Editors
Photographer/Contributor
Writer/Contributor
Columnist/Contributor
Magcloud set up

Website

Designer
Senior Editors
Editors
Contributors
Reviewers
Archivist
Forum Moderators
Polling Moderators
Bloggers
Social Networking

Conference

Planning
Seminar presenter
Award presenter
Manage a raffle
Participate in planning
Fundrasing
Publicity
Outreach to local schools and libraries
Appear on radio and TV to discuss MWSA authors

Regional Events

Plan and manage
Attend
Marketing
Publicity
Buckaroos. We know that there are various levels of contribution. Just by paying your dues, you give us the resources to run the organization. Your conference fees help make our annual meetings possible. If you are a reveiwer or a judge or a member of the Board or if you lead or serve on a committee or contribute to Dispatches -- you are furthering the goals of MWSA -- and we appreciate it. The question is, how do we recognize the value of one thing compared to another? 
In 2009, we instituted the concept of Buckaroos. Buckaroos are MWSA currency that roughly approximates the value of 1 Buckaroo per $1. When you pay your dues for a year, 40 Buckaroos are credited to your Buckaroo account. When you submit an article or photograph to Dispatches, you get 100 Buckaroos. When you serve as an officer, you get 12,500 Buckaroos. When you buy raffle tickets, you get an equal amount of Buckaraoos. When you win an award, you get Buckaroos too.
At the Conference, you are given the total number of Buckaroos you have earned throughout the year and your account is zero'd. If you don't come to the Conference, your account continues to accrue Buckaroos.  
During the event, we have a Buckaroo Auction. Other members, businesses, private citizens donate items for the auction. In the past, we've had things like widescreen televisions, Kindles, Nooks, digital cameras, MWSA golf shirts, editing services, cover designs, jewelry, etc. The auction is always a lot of fun--and it's a way for you to spend your Buckaroos.
You can also use your Buckaroos to make deals with other MWSA members. For example, some of our editors will take half of their fees in Buckaroos. If you do offer book services, you might consider taking Buckaroos for part of your fees.
We encourage everyone to donate something for the auction. We also encourage you to not lose your left-over Buckaroos and to be sure and bring them the next year. Anyone who has participated in one of the auctions will tell you it's a lot more fun if you have a lot of Buckaroos to spend. 
Volunteer now: Contact Dwight J. Zimmerman at mwsapresdjz@earthlink.net