Memorial Day Eulogy for a Fallen Shipmate
Submitted by Bob Stockton on May 22, 2012 - 11:47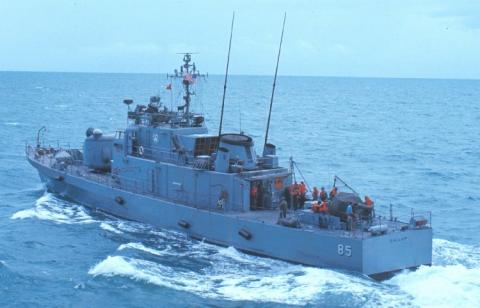 Recently I drove down to Cape Coral to pay my final respects to Ron Gagnon, my friend of more than 35 years. Ron was a retired Navy Chief Petty Officer, Vietnam Swift Boat veteran, stock car racer and an award–winning restorer of Vintage Chevrolet Corvettes. Ron was 63 years old.
I first met Ron in 1975. I was the Operations Intelligence Division Chief (Surface) aboard the soon-to-be decommissioned and scrapped World War II-era aircraft carrier, Franklin D. Roosevelt. "Rosie" was a sorry mess at the time. Aging and rusty, Rosie was hampered by a warped shaft that incapacitated one of her four large propulsion propellers. Yet the Navy had dictated that she would have to make two more Mediterranean cruises with the Sixth Fleet to bridge the gap until some of the newer nuclear- powered carriers became operational.
To make matters even worse, the "Zumwalt" era was in full bloom. Chief of Naval Operations, Admiral Elmo Zumwalt, had begun the Navy's slide into "social engineering." Hair and beard regulations were relaxed and other new regulations designed to make Navy service more friendly and palatable to the young first enlistment sailor were issued. These regulations were not favorably received by many command- and flag-level officers in the fleet.
One afternoon while the Franklin was in port at Mayport, Florida, I was sitting in the Surface Section of the ship's Combat Information Center commenting negatively on the sorry state of the torn and dirty working uniform of Seaman James P. Butler. That's when Petty Officer First Class Ron Gagnon walked up and introduced himself to me. Ron had recently reported for duty and the Operations Officer had assigned him to the Surface Warfare Team, telling him to report to me. Upon introduction I learned that Ron had recently served in Swift Boats in Vietnam. This immediately forged a bond between us as I had served in Vietnam in 1968 on Patrol Gunboats. Ron and I were the only two men in the division - including the officers - who had served in Vietnam. We decided to tighten up the Division and get these young sailors squared away. Ron became my Lead Petty Officer on the spot, replacing a gentle, bearded, largely ineffective PO1 named Martin.
Ron took no crap from the men in the Division, nor the junior officer that was the Navy's answer to what passed for a Division Officer in the Navy of 1975. I recall an incident when one of the junior Petty Officers went AWOL for 24 hours and returned, confident that a slap on the wrist, and perhaps some Division restriction, was all the punishment that he would receive. Ron gave the young man two options: either be placed on report and go to Captain's Mast where he was sure to be busted to Seaman or to chip and paint the Number 3 gun sponson outboard by himself over his next liberty weekend. The junior Petty Officer grumbled that it was seaman's work, and not fitting for a rated man. Ron responded. "Fine. Go to Mast, get busted and when you return as a Seaman THEN you can paint the #$%&* sponson!" The petty officer agreed to spend his next liberty weekend chipping and painting.
Ron and I made the 1975 Mediterranean cruise together and never missed a liberty port or a bar in that port. We were the only two who always went ashore in uniform. We were proud of our uniforms and what they represented.
We were shipmates.
I retired in late 1976 and thirty-four years passed before I saw Ron again. He was attending a Swift Boat Veterans Reunion in Jacksonville. Although we had remained in touch by email and Christmas greetings over the years, I jumped at the chance to hook up with my old friend and relive those long ago memories.
And relive them we did! Ron was in poor health, receiving full combat disability compensation. His kidneys were failing, he had advanced emphysema, which later became lung cancer, and he had heart problems, all from the Agent Orange defoliant in use in Vietnam long ago that had killed and disabled so many of our own. While his body was humbled, his spirit was not. The fire was still in his eyes, the "can do" spirit still in his heart. He talked of his family, his Corvettes, and the tasks and trials that lay ahead.
Ron died shortly thereafter.
I will miss my friend and shipmate Ron Gagnon, Chief Operations Specialist, United States Navy, Retired. Fair winds and following seas on your new journey.
Bob Stockton, OSC, USN (Ret.)